Over the course of the year, we're moving through different phases of training in order to give your body an appropriate stimulus and get you ready to perform your best for the end of your competitive season. Here's an overview of the phases:

If you jump in with our programming at the beginning of the off-season, you'll run through the ideal programming calendar shown below. At any time, you can go to the Masters Ultimate programming page which links directly to the phase we're on according to the calendar. (We suggest you bookmark this page on your computer or phone as an app-like icon to save time!)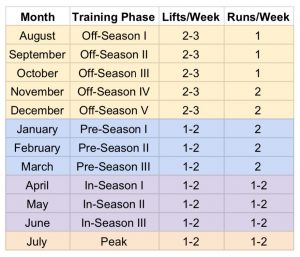 If you start up anytime from October to June, start with the Foundational Phase, which will get you up to speed with the running workouts.