We've reviewed the data from our community survey on masks and wanted to share our findings as well as some determinations we've made based on that data, your comments and WA State reports. First of all, thank you so much for your input – we had 53 respondents!! It was really helpful to hear what you're thinking and feeling, and how our policies can clearly reflect our values as a community.
This chart shows the responses to the question, "How might your attendance change if masks were optional?"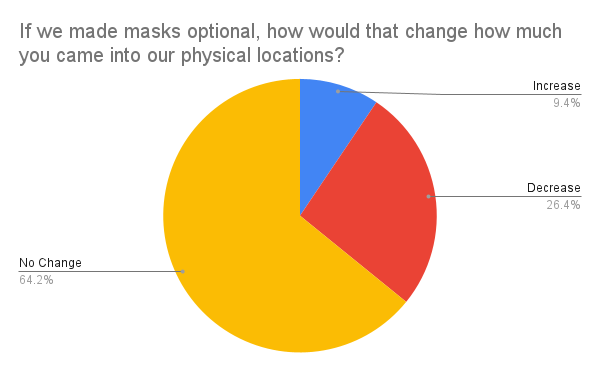 As you can see, the large majority of community members who responded feel okay with keeping masks on in our physical locations at this time, and a significant group would feel more comfortable if they were still required for everyone. Many reasons were cited, including the spike in cases from the BA-2 variant, immunocompromised people or young children in their circle, or being immunocompromised themselves.
With this feedback and the reports of cases spiking in Washington, we are going to continue to require masks in our physical locations for the time being. We will also continue to require proof of vaccination, though we urge those that need medical exemptions to reach out to us for accommodations.
We will continue to monitor this situation closely! We are looking to provide more movement options through adding outdoor classes in warmer weather, and may consider having different situational mask policies based on the air flow, size and usage of our physical locations. Stay tuned for updates, and as always, we really appreciate both your feedback and your commitment to helping our community stay as safe as possible!