This program will guide you through a progression of skills to create more than just core strength – you will also develop awareness, coordination, and control throughout your whole body! The challenge format is helpful because it encourages you to focus on how you're moving and interacting with the world around you on a daily basis, which helps create new movement patterns and connects you more strongly to yourself and others. You can do your workouts wherever you are (at home, at the gym, on vacation, at the park), and this resource includes so much more than a core routine!
Sign ups for the Core Challenge happen for specific launch times, so subscribe to our newsletter to hear about the next one!
Features of the Challenge
You will receive…

Core Concepts Clinic
Goal Setting
4 On-Demand Video Core Lessons
5 Live Zoom Core Classes
Daily Practice
Weekly Emails for Accountability
Coach Support and Guidance
You will experience…

Virtual community engagement and accountability
Improved awareness of integrating core with movement
Increased muscle strength and tone of core muscles
Balanced muscular strength
Enhanced muscular control of torso and limbs
Increased mobility, stretch of the muscles, and range of motion within the joints
How the Challenge Works
This is a 30-day challenge that starts June 1st, with weekly on-demand and live Zoom core classes. While you are moving through the challenge, we are available to support you!
Day 1 of the challenge will be June 1st. Sign up now and start your goal setting, plan out your schedule, and watch the core clinic!
Lessons
There are 4 Lessons in the core challenge, each approximately 60 minutes long. The first lesson opens on June 1st, then the subsequent lessons will unlock, or become available, each week on Tuesday. It is important to practice the content in order, as the skills build upon themselves.
Daily Practice
There are 5 Focus Exercises built into the Core Lessons. These are the exercises that need to be practiced in order to help you progress to the next lesson. Each day, plan on spending 5-60 minutes for daily practice; it takes an hour to do a core lesson or Zoom class, and 5-15 minutes to work on focus exercises. You choose what you want to do every day, depending on how much time you have and making sure to build in rest days.
Zoom Core Classes
As a part of this challenge we want to welcome you to take part in our virtual live class community! This is a great way to work with us live, get real time feedback and guidance. We will save 15 minutes at the end of class to answer any questions you have about the Core Challenge. We have selected a variety of days and times for you to join the fun! We hope you'll be able make it to at least one of the sessions, or join for just the Q&A.

Support & Guidance
We are here for you! Not sure if you are doing something right? Have an injury or pain and need personal modification? Email us or join the Zoom class and Q&A! You will be able to ask your coaches for help with modifications and questions about exercises.
Lesson Sample
Check out a sample of what the Core Challenge Lessons look like!
Sign Up!
At Strive & Uplift, we are committed to making sure that all people, regardless of their means, can be a part of our community! This means removing barriers like cost together so everyone can easily and sustainably access our services and resources. At the same time, we want to ensure our coaches are properly compensated for their labor and can have a good quality of life. That's why we use a sliding scale – to remove barriers and care for each other!
This challenge is offered with flexible pricing so you can set the right price according to your access to resources. Everyone deserves access to high-quality movement education and support, and this method of individually setting pricing allows us to use wealth redistribution to provide access to everyone!
How flexible pricing works
People with more access to money, family wealth, and overall financial stability pay more for the same services than those who are less financially secure. That way, everyone pays closer to a similar percentage of their expendable income for our services. While the world still runs on money, this is the best way to ensure our coaches can continue providing awesome instruction and support to everyone!
As you decide whether you should pay more, less, or the same amount as our starting rates, you'll consider the following:

Your household income
Your access to family assets & wealth, or assistance you provide to your family
Your debt to income ratio
The relative costs of meeting your basic needs (e.g. do you need to spend more than others on healthcare?)
How we use resources
We spend our time and money as a business on values-centered projects and member support! The money you pay for the challenge goes to:
Coach pay for producing and managing the challenge, teaching live classes, and answering your questions
Standard costs of doing business like insurance, bookkeeping, and client management software
Connecting with our community through our website, mailing lists, and social media channels
Web accessibility improvements by video captioning and website design
Coach development to improve instruction and create a welcoming atmosphere for all bodies!
Determining what to pay
You can use this chart to help decide what the right price is for you. Everyone's financial situation is informed by the interactions between income, wealth, debt, and varying costs of basic living expenses. Consider where you fall in each of the categories presented to determine your overall financial position.
This chart is presented solely as a guide to help you decide the membership rate that's best for you. It's impossible to capture everything, which means you may have specific circumstances that aren't reflected here. Ultimately, the choice is yours — we're trying to lower barriers, not put more in your way!
Bottom
Low
Medium
High
Top
Income
– Unemployment without UI or disability
– Employed marginally or in a criminalized sector (not by choice)
– Unemployed with UI or disability
– Underemployed compared to cost of living
Stably employed at around the median income, with ability to cover unpredicted expenses
Stably employed above the median income, consistently have disposable income
Stably employed well above the median income, consistently have plenty of disposable income
Family of Origin Assets / Wealth
– Family has no assets or debt is more than assets
– No access to family
– Family relies on me for help with basic living expenses
– Family has some assets
– I sometimes help my family of origin or chosen family with basic living expenses
Family has assets, like a house they are paying off
– Family has many assets, like a paid-off house
– I will inherit a house and/or a small amount of money
– Family has many assets, like investments
– I have or will inherit wealth
– Someone else paid/pays my housing or down payment
Debt:Income Ratio
My debt is from basic living expenses such as food, rent, utilities, healthcare, childcare
My debt, including student loans or car loans, are more than my yearly income
My debt, including student loans or car loans, is about the same amount as my yearly income
Less debt than yearly income
No debt
Recommended Price
$50
$65
$80
$95
$110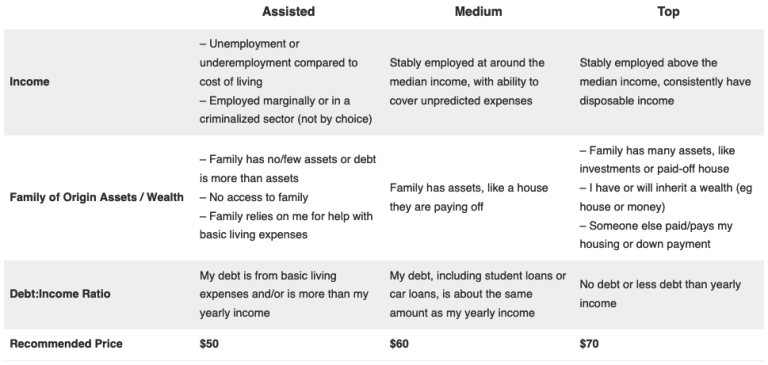 Sign up for our newsletter to hear about the next launch of the 30-day Core Challenge!