This program will guide you through a progression of skills to create more than just core strength – you will also develop awareness, coordination, and control throughout your whole body! The challenge format is helpful because it encourages you to focus on how you're moving and interacting with the world around you on a daily basis, which helps create new movement patterns and connects you more strongly to yourself and others. You can do your workouts wherever you are (at home, at the gym, on vacation, at the park), and this resource includes so much more than a core routine!
Features of the Challenge
You will receive…

Core Concepts Clinic
Goal Setting
4 Core Classes
Daily Practice
4 Bodyweight Workouts
Support and Guidance
Supplemental Resources
You will experience…

Virtual community engagement and accountability
Improved awareness of integrating core with movement
Increased muscle strength and tone of core muscles
Balanced muscular strength
Enhanced muscular control of torso and limbs
Increased mobility, stretch of the muscles, and range of motion within the joints
How the Challenge Works
This is a self-guided challenge that is broken up into cycles with launch days for your workouts. While you are moving through the challenge, we are available to support you!
Day 1 of the challenge begins the day you purchase the challenge, so plan to purchase the challenge on a day when you have 90 minutes to get started. Once you're in, watch the clinics and do the first core class!
If you get off track, don't worry! You will have access to the content for 90 days and you will still get emails letting you know when you get access to the next part of the challenge, but you can continue to move at your own pace.
Cycles
The Core Challenge is 45 days long with 4 cycles. Within each cycle, there is a Core Workout & a set of Bodyweight Exercises. Core Workouts and Bodyweight Exercises will "unlock", or become available, on the day indicated on the graph and you will receive emails as new content is available.

Daily Practice
Core Workouts will have 5 Focus Exercises. Each day you will spend 5-45 minutes doing your core and/or bodyweight exercises to prepare you for the next core workout. You choose what you want to do every day, depending on how much time you have and making sure to build in rest days.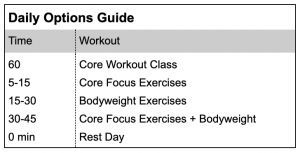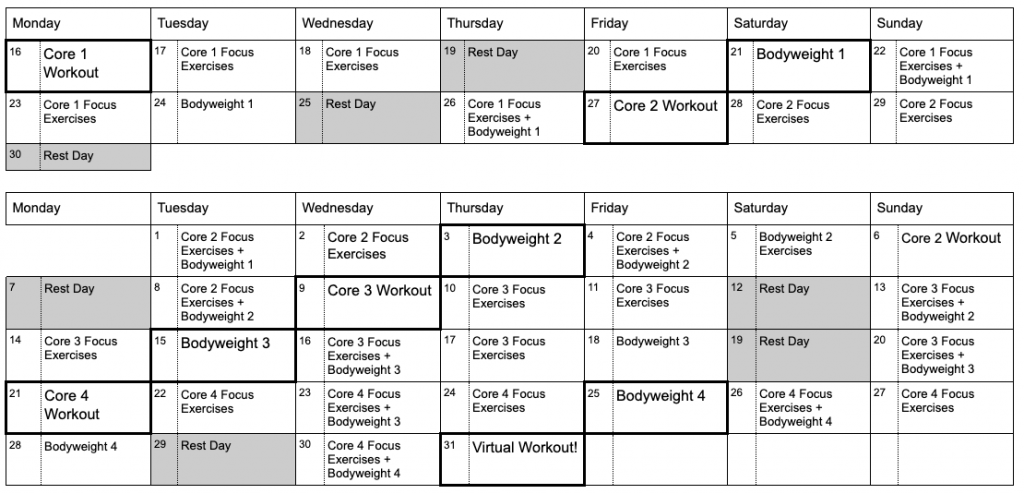 Support & Guidance
We are here for you! Not sure if you are doing something right? Have an injury or pain and need personal modification? Contact us! We use email and Slack for this challenge. You will be able to ask your coaches for help with modifications and questions about exercises, and communicate with current and past challenge participants to share learnings and get support!
You will also receive a goal setting and tracking sheet, as well as supplemental materials along the way that contain tips and tricks based on your questions plus resources from our collaborators that will deepen your knowledge and understanding.
Sample of Class
Check out a sample of what the Core Challenge Classes look like!
Sign Up!
Sign up now and get ready for 45+ days of awareness, focus, concentration, workouts, and fun!