The Fundamentals Course takes you through a skills progression designed to build a strong foundation for movement in the gym, in sports, and in your daily life!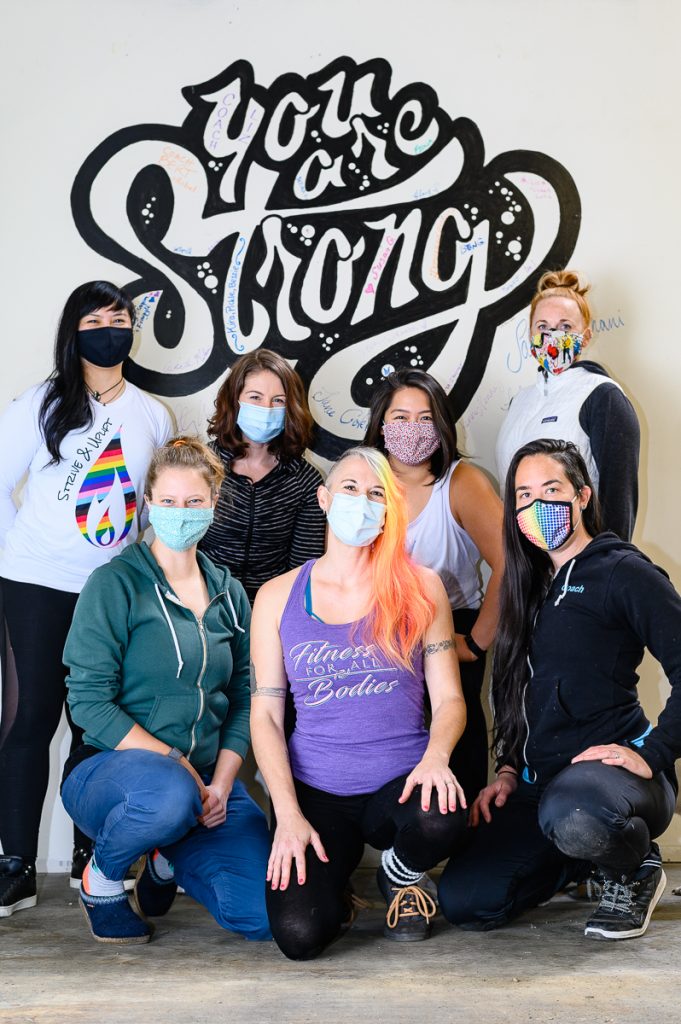 This course is great for…
People looking to learn fundamental movement patterns and foundational bodyweight exercises, while learning how to build body awareness. This course is designed with coach feedback, interaction, and support.
In this course, you will…
Learn and practice foundational movements that help build body awareness and motor control that translate into every day movements and tasks.
Gain a deeper understanding of what the core is as a whole and connect its importance to general health beyond movement.
Be supported by a team of coaches as you learn and move through individual check-ins before, during, and after the course.
Why this course?
To take ownership of the tools needed to move well and move confidently, with the ability to choose how you approach each movement we teach at a pace that feels best for you.
To understand how foundational movements work in order to lay the groundwork for moving well and to have the ability to build a stronger base for yourself beyond the course
---
Course Structure
This is a self guided course, with lessons that take you through a progression of skills, plus coach check-ins along the way to support, guide and hold you accountable.
The course consists of lessons that are a progression of skills. Each lesson is 60-90 minutes long and includes resources to help further practice the movements from the lesson. After each lesson, you will take a moment to reflect on what you learned before starting the next one. There are coach check-ins built into the course to help make sure you are making progress towards your goals, answer questions about form, offer modifications according to your body's needs, and anything else you need from us!
Course Overview
Start

Physical Activity Readiness Questionnaire (PAR-Q) – a basic health screen questionnaire that will help you and your coach talk through potential modifications and adjustments to the program
Goal Setting – help you set your intention for this course and enable your coaches to help you get there

Lessons 1-6

There are two core-focused lessons, as well as strength lessons where you'll learn the foundational movement patterns of squat, push, hinge, pull, single side balance, and full body / compound movements
Each lesson is made of smaller segments so that you can come back and practice specific parts
The strength-focused lessons (2, 3, 5, and 6) have a circuit playlist you can use to work on the movements in a structured follow-along workout
At the end of each lesson you will complete a reflection to help you align what you are doing with your goal setting and record things you want to discuss at the next coach check-in

Coach Check-ins

There are 3 coach check-ins throughout this course:

The first check-in before getting started in the lessons, you'll discuss your goal setting and go over the flow and technology of the self-guided course.
Your second check-in halfway through the course, you and your coach will review any questions you have and ensure you have the right modifications and individual cues to perform movements successfully.
Your final check-in at the end of the course will help launch you into your next steps in your fitness journey!

Next Steps

You'll receive a few more resources to continue learning and growing when you complete this course.
During your final coach check-in, you can discuss where you'll take your fitness journey next!

Liked following along with the videos and circuit playlists? Maybe a class membership will be right for you!
Were the practice slides and independent practice more your thing? Following programming on your own might be best!
Did you feel best in the coach check-ins, where your individual needs were seen? You could try out 1:1 Coaching!
Lesson Overview
This course is made up of 6 lessons. Each lesson takes 60-90 minutes and a typical lesson includes the following movement segments:
body awareness warm up (10 min)
core exercises (5-10 min)
mobility work (5 min each)
foundational movements/skills (5-10 min each)
practice time (10+min)
mini circuit (15+min)
cool down (5 min)
reflection questions (5-10 min)
Each lesson is a building block to help motor control and function become intuitive so that you can find endurance, flexibility, and strength.
Complete the whole lesson, then practice the different foundational movements by re-watching video segments, reviewing with the practice slides, or using the circuit playlist until you feel ready to move to the next lesson. As you complete each lesson they will still be available to you so you can go back and work on those skills!
Timing / Duration
This is a self-paced course. You can take as much or little time as you want based on your schedule and/or skill acquisition. After completing a lesson you can move onto the next one or spend a few days practicing the lesson segments before moving onto the next lesson. You may benefit from planning to do one lesson per week in order to follow a consistent schedule. Listen to what your body needs to groove in the movement patterns, then move on when you are ready. Coach check-ins are a great place to talk about timing!
Equipment
Each video begins with a preview slide that shows what equipment you'll need for that segment. You'll just want a mat to provide cushion for the floor and make sure you have good traction, and some movements use a chair. Any household chair will do!
---
Communication & Support
There are built in check-ins with a coach along the way! These coach check-ins will help make sure you are making progress towards your goals, answer questions about form or modifications, and anything else you need us for. We'll use your goal setting and reflection questions leading up to each check-in as well as availability to schedule an appointment with the coach best suited to your needs.
Meet your coaches!
Coach Liz "As a coach, I help athletes start where they are and build upon that foundation to strive—whether it is for lifting, racing, playing sports or just using their strength outside the gym (like being able to put luggage into the overhead compartment without asking for help!)."
Coach Becca "I'm passionate about helping those who don't feel comfortable with movement and want to learn how to improve their bodies so they can live their best lives."
Coach Kira "As a core coach, I am focused on making sure athletes have a strong and stable foundation so they can train harder, safer and improve their performance."
---
Program Access
We believe in making high-quality movement coaching available to everyone, so this course is available at different price points. Once you purchase access to this course, you'll have 90 days to complete it. We know it sometimes takes a little motivation to keep moving! We also know that life sometimes gets in the way of our best-laid plans, so please reach out if you need more time.
Pricing Structure
At Strive & Uplift, we are committed to making sure that all people, regardless of their means, can be a part of our community! This means removing barriers like cost together so everyone can easily and sustainably access our services and resources. At the same time, we want to ensure our coaches are properly compensated for their labor and can have a good quality of life. That's why we use flexible pricing – to remove barriers and care for each other!
This course is offered with flexible pricing so you can purchase it at the right cost according to your access to resources. Everyone deserves access to high-quality movement education and support, and this method of individually setting membership rates allows us to use wealth redistribution to provide access to everyone!
If you're ready to set your price, you can jump down to determine what to pay. Otherwise, read on to learn more about flexible pricing, the value of this course, and how to set your price!
How flexible pricing works
People with more access to money, family wealth, and overall financial stability pay more for the same services than those who are less financially secure. That way, everyone pays closer to a similar percentage of their expendable income for our services. While the world still runs on money, this is the best way to ensure our coaches can continue providing awesome instruction and support to everyone!
As you decide whether you should pay more, less, or the same amount as our starting rates, you'll consider the following:

Your household income
Your access to family assets & wealth, or assistance you provide to your family
Your debt to income ratio
The relative costs of meeting your basic needs (e.g. do you need to spend more than others on healthcare?)
How we use resources
We spend our time and money as a business on values-centered projects and member support! This course, in particular, has a lot of 1:1 coach support that involves dedicated time just to you. These pricing tiers ensure we can pay coaches for that time!
Determining what to pay
You can use this chart to help decide what the right price is for you. Everyone's financial situation is informed by the interactions between income, wealth, debt, and varying costs of basic living expenses. Consider where you fall in each of the categories presented to determine your overall financial position.
This chart is presented solely as a guide to help you decide the course price that's best for you. It's impossible to capture everything, which means you may have specific circumstances that aren't reflected here. Ultimately, the choice is yours — we're trying to lower barriers, not put more in your way!
Bottom
Low
Medium
High
Top
Income
– Unemployment without UI or disability
– Employed marginally or in a criminalized sector (not by choice)
– Unemployed with UI or disability
– Underemployed compared to cost of living
Stably employed at around the median income, with ability to cover unpredicted expenses
Stably employed above the median income, consistently have disposable income
Stably employed well above the median income, consistently have plenty of disposable income
Family of Origin Assets / Wealth
– Family has no assets or debt is more than assets
– No access to family
– Family relies on me for help with basic living expenses
– Family has some assets
– I sometimes help my family of origin or chosen family with basic living expenses
Family has assets, like a house they are paying off
– Family has many assets, like a paid-off house
– I will inherit a house and/or a small amount of money
– Family has many assets, like investments
– I have or will inherit wealth
– Someone else paid/pays my housing or down payment
Debt:Income Ratio
My debt is from basic living expenses such as food, rent, utilities, healthcare, childcare
My debt, including student loans or car loans, are more than my yearly income
My debt, including student loans or car loans, is about the same amount as my yearly income
Less debt than yearly income
No debt
Recommended Price
$140
$175
$210
$245
$280
---
Ready to go? Follow the link below to set your price and get started!