Classes
Strive & Uplift classes are small-group training sessions based on getting stronger, more injury-resistant, as well as upping sport performance for athletes. The atmosphere is fun and focused, and there is a lot of talk about how the movements we do help accomplish your goals.
Zoom classes have a 15-person maximum for Zoom only and an 8-person maximum for hybrid classes to make sure coaches can give everyone focused attention and feedback. In-person classes have more limited capacity (currently 6 in the Ballard space, 3 in West Seattle) in accordance with our COVID protocols.
Coaches focus on providing individualized attention, including options you need to get the most out of your training. We also focus on cultivating a tight-knit community with genuine connections with your fellow classmates!
Gym Access
Gym access is offered through the same booking system and membership as our classes. These are times when you can come in and work out independently!
This service is only available at our Ballard location, and spots are limited to make sure everyone can get the equipment they need for their workout. Our current maximum capacity is 4 gym access spots per session, and 2 spots when other sessions like classes and individualized coaching occur at the same time. You can see how many spots remain for each session on our daily schedule.
Try it Out!
Check our schedule for current offerings, and see class descriptions and information on how to participate below.
We have a FREE trial week for classes & gym access, so find something you're interested in and check us out!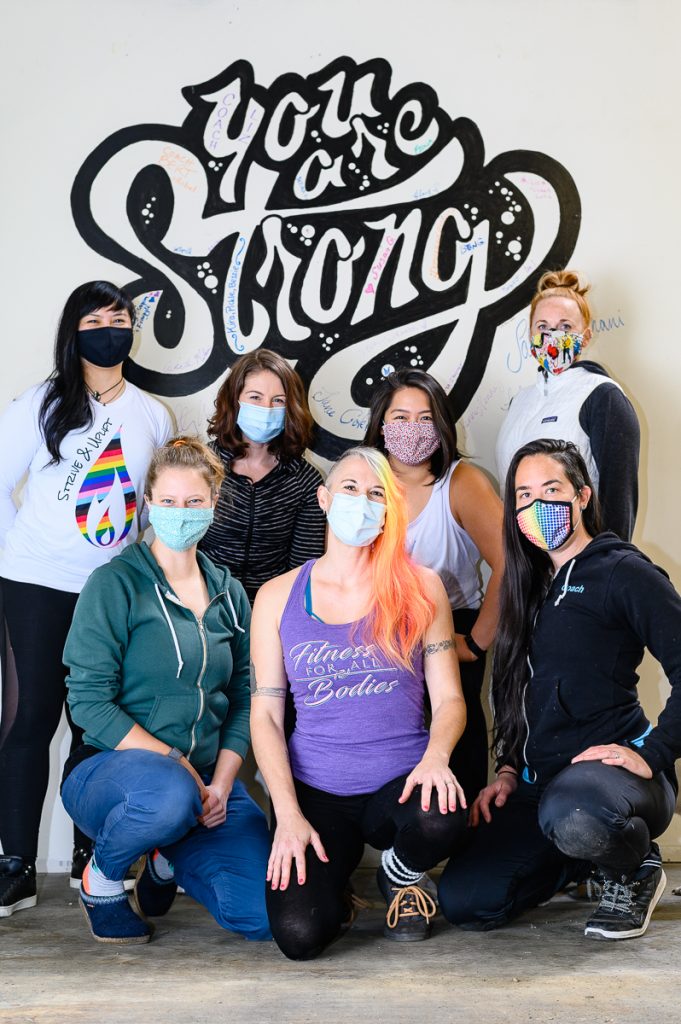 ---
Pricing Options
Trial Week
The trial week is a great way to try out classes (live & recorded), meet all our coaches, and participate in our community!
A full week to try our classes and services.
Access to a mini version of our Member Content page so you can interact with recorded classes and get to know all our coaches.
No requirement to enter credit card information and no commitment or automatic sign up after the trial week is over.
At the end of the trial, you can decide how you want to engage with the community going forward. Our coaches are always available to help you figure out what's right for you!
Single Visit & Membership Rates
Single Visit
$30 + tax
Join classes or gym access one visit at a time. Remember that your first week with us is FREE, whether to work out on your own using member content or in one of our group classes! Check out our schedule for current offerings and to sign up.
Monthly Membership
We have one membership, offered with flexible pricing so you can set the right monthly rate according to your use of services and available resources. For more details, check out our terms and conditions.
No set-up fees and no contract (you can cancel anytime)
Renew automatically every month from the date you sign up (ex. if you sign up on the 6th your first month, your membership renews on the 6th of each following month)
Sign up ahead of time for classes! Use the Pike13 app or go to our schedule to secure a spot in a class. A class membership does not guarantee you a spot in a class.
Free access to clinics, recorded classes, workout plans, and other special content in the Member Content area.
If you are interested in an annual membership (great for peeps whose employers reimburse annual gym memberships!), you can get an Unlimited Class & Gym Access Membership for a whole year. Annual memberships do not auto-renew, and no full or partial refunds are available during the year of membership. Email us for more details.
Work out under the guidance of our coaches in group classes and access member content. See our weekly schedule for hours & class times!
Set Your Rate
You can use the chart below (developed from Both / & and Embracing Equity's Sliding Scales) to help decide what the right price is for you. Everyone's financial situation is informed by the interactions between income, wealth, debt, and varying costs of basic living expenses. Consider where you fall in each of the categories presented to determine your overall financial position.
This chart is offered solely as a guide to help you decide the rate that's best for you. It's impossible to capture everything, which means you may have specific circumstances that aren't reflected here. Please contact us if you cannot afford the "Assisted" rate and we will set a price together.
The drop in and membership prices listed below are before sales tax is added, which is currently 10.25%. If you cannot afford the "Assisted" rate, please fill out this form to set your own rate and we will set a price together.
Assisted
Value of Service
Abundance
Income
– Unemployment or underemployment compared to cost of living
– Employed marginally or in a criminalized sector (not by choice)
Stably employed at around the median income, with ability to cover unpredicted expenses
Stably employed above the median income, consistently have disposable income
Family of Origin Assets / Wealth
– Family has no/few assets or debt is more than assets
– No access to family
– Family relies on me for help with basic living expenses
Family has assets, like a house they are paying off
– Family has many assets, like investments or paid-off house
– I have or will inherit a wealth (eg house or money)
– Someone else paid/pays my housing or down payment
Debt:Income Ratio
My debt is from basic living expenses and/or is more than my yearly income
My debt, including student loans or car loans, is about the same amount as my yearly income
No debt or less debt than yearly income
Membership Rate (Click to Purchase)
$115/month
$145/month
$175/month
---
Schedule
Here's an overview of our class and gym access schedule across our different locations.
Check out the schedule below for our daily offerings. Click "Enroll" to sign up from your desktop. From a mobile device, use the Pike13 client app to register. Your first time is FREE, so come work out with us (even virtually)!
All times listed are Pacific.
Enrollment
Check the class description for equipment needed.
For outdoor classes, check the description for the specific class location and meeting place.
Make sure you have the Zoom app downloaded to your phone and/or computer for Zoom classes. You can do this when you receive the link to class; it should only take a few minutes!
Enroll in advance, no walk-ins (including for single visits).
Enrollment in classes and gym access are limited in alignment with our space occupancy per our COVID Policy and in order to provide quality instruction to class participants.
Enrollment is open one week in advance. Please only reserve spots you know you will be able to attend.
You can enroll in available spots through Pike13…

beginning one week ahead of the class or gym access time.
up to 4 hours ahead of time for mid-morning, afternoon, and evening classes, or 12 hours ahead of time for morning classes.
Confirmation Email
Includes instructions on how to join the class or any specific COVID protocols.
Emails are sent to the email address you use for Pike13.
If it does not appear in your inbox, check your filters and make sure this email will go to your inbox for future classes by adding the email to your address book.
Attending Class or Gym Access
For Zoom, follow the link in your enrollment confirmation email to open Zoom and get set up to start class! Your microphone and camera are set to automatically be on when you enter (people will hear and see you) – you can control your audio and video once in the class.
For outdoor, come to the specified park and meeting location in the description & confirmation email.
For indoor, come to the location where the class meets! We require documented proof of COVID-19 vaccination for indoor classes & gym access.
Cancellation and No Shows
Late cancellations (made within 6 hours of mid-morning, afternoon, and evening sessions or 14 hours of a morning session) and no shows (do not attend an enrolled session) may incur a fee:

Membership: $20 fee per session
Single Visit: Pass is deducted

Do not come in if you are sick! If you need to late cancel due to illness please contact us. If it is COVID related we will activate our Exposure Procedures to ensure everyone's safety (you, our coaches, and our community).
For more details, look at our Enrollment & Cancellation Policy.