Helping keep kids moving, mindful and strong!
Youth Movement Snacks for educators and families is an accessible resource with short videos to get kids moving, connect with their bodies, and get stronger.
Virtual school days are LONG, and most schools don't have the bandwidth or staff to provide healthy movement opportunities that engage kids and help keep them focused.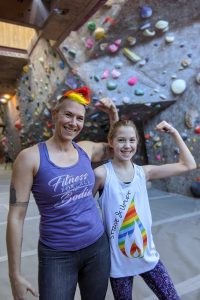 Have you been thinking…
I need a quick, easy way to get my 4th grade students re-engaged in a lesson!
My teenager is exhausted after virtual school and misses her soccer team.
My middle schooler is experiencing anxiety around online learning – what can I do to help him get centered?
Strive & Uplift is a strength & conditioning community whose mission is creating and maintaining a safe space for people of all ages and abilities to meaningfully connect to their bodies. We are living in a time of unprecedented challenges and our whole country is moving virtual – this means new opportunities to be of service and create something new!
What is YuMS (Youth Movement Snacks)?
Videos of 5, 10, or 15 minutes that are available on demand for educators and families
We're creating short video content for a multiple of uses! An educator might need a quick way to help kids get the wiggles out – they could choose a 5-minute Moving video! A parent might want their 7th grader to slow down and breathe before starting English homework – a 10-minute Mindful video would work well! If a PE teacher is out sick, a 15-minute Strong workout would cover the bases!
3 categories of content: Moving, Mindful and Strong
Moving: gets the blood flowing with engaging accessible movements
Mindful: calms the nervous system and helps kids get centered
Strong: teaches basic movement patterns for coordination and strength
Targeted to different age groups (elementary, middle and high school)
Different ages need a different voice and content – we want to make sure you're getting what you need and want from your videos! Each segment is clearly marked with ES/MS/HS for easy selection.
Engaging and relatable content from coaches with a diversity of bodies and teaching styles
Strive & Uplift coaches bring a wide range of expertise – we have mental health professionals, kettlebell sport instructors, Pilates teachers, ultimate frisbee-specific experts, and more! But we're also partnering with coaches outside our organization to ensure even more diversity and inclusion of ability, race, body type, and gender expression.
Closed captioning and many different options for movement to maximize accessibility
We include captions for all our videos – some kids are more visual learners, and it's important to us that hard-of-hearing and Deaf kids can equally access this content. We provide different options in movement segments so that all kids feel comfortable moving in the way that's best for them that day.
An ever-growing library of videos to choose from – this is a developing resource!
As we get this resource into people's hands (like yours!) we're committing to continuing to expand this content to give folx more options and new material to engage with!
Kids, like adults, need to breathe and engage their bodies regularly in order to be happy and healthy. In non-pandemic times there are many opportunities for that at school – playgrounds, built-in breaks to move between classes, and physical education. Families also have dance, martial arts, after-school sports and other chances to support their kids' movement needs. YuMS can help meet this need in a compassionate and interactive way, right now!
YuMS Sample Platter
Moving
This is a snack for all ages that gets learners up and moving through all their bodies. This movement involves standing and supporting the body on hands and feet or knees.
Mindful
This snack for elementary schoolers is designed to get kids focused and in touch with their senses using a grounding object. It can be done by anyone, regardless of movement restrictions.
Strong
This video for middle and high schoolers focuses on connecting breath to movement while learning one of the fundamental movement patterns – the squat! This movement is centered on the legs, from hips to toes, and brings in core awareness.
Coming Soon!