We've gotten a lot of questions from our community about how to set up a home gym so folx can keep strength training during times when gym access is unavailable or questionable at best – we want to provide some guidelines and ideas so you can start to visualize your workouts!

Here's a few things to ponder before we get into some sample setups:
What kind of movement do you like to do? If you're used to lifting heavy weights, you might want to think about borrowing some strength training equipment for a bit! If you participate in dance or martial arts classes, you might need a particular flooring for your workout.
What kind of space do you have for movement? If you have a big house, you might have a room that you can devote to working out. If you have a small space, you might need to have equipment/flooring that you can easily pull away from a wall or store in a closet.
What's your budget? You can spend $0-$5K on a home gym setup – consider your means right now and make some choices based on whether this is a long-term or short-term investment for you.
Is anyone else going to use the space other than you? If you have a partner or kids that are going to want to use the space, it's best if you sit down together to figure things out so it works for everyone.
How are you planning your workouts? There are a lot of online options for movement, and more being created every day – we have a lot of virtual memberships that you can check out if you need programming!
Want the community of a class? Strive & Uplift just launched a new schedule with a bunch of live virtual offerings that will run through the time of the physical gym closure – if you prefer guided workouts and coach interaction to programming, check it out! All the classes are either bodyweight or require minimal equipment so you can stay home and stay healthy!
It can be hard to visualize what your space could look like – we had some of our coaches share their own home setups to give you some ideas! Look for them throughout the rest of this article, and make sure you stick around for the last one!

Bodyweight / No Specialized Equipment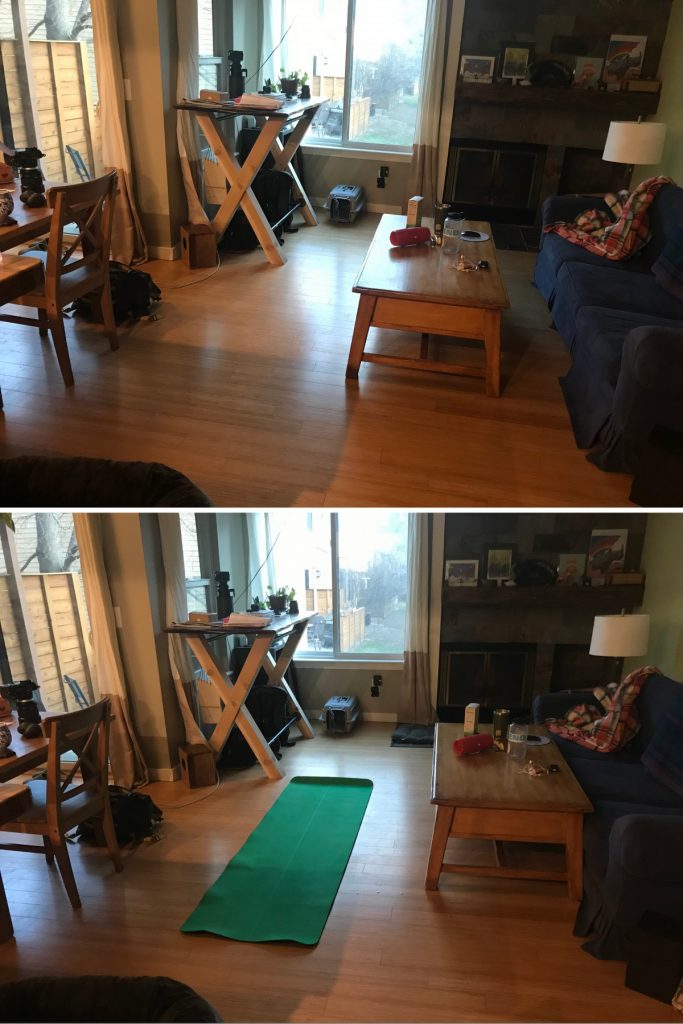 This is the easiest space to set up because you just need room to move and no equipment! You might want to have a mat you can put down, or be able to lie on a squishy surface for some exercises to protect your spine, but you don't need specialized equipment to stay active!
All our virtual memberships have bodyweight or gym-free training resources. We use chairs, brooms, and water bottles whenever we need a prop.
We have a Core Challenge Program that's available to everyone; this is mat Pilates work and requires no special equipment. It also includes bodyweight workouts!
Here's a bodyweight workout you can do right now!
For this workout, you need a soft floor surface and a water bottle (optional)!
Circuit:
– 6/side Lateral Deadbug
– 6 In-and-Out Pushups
– 4/side SLDL to Balance
– 6/side Running Side Plank
– 8 Stand/Kneel
Repeat this circuit 3 times if you have time (run this video back if you need to see form)!
Resistance Bands – $5-60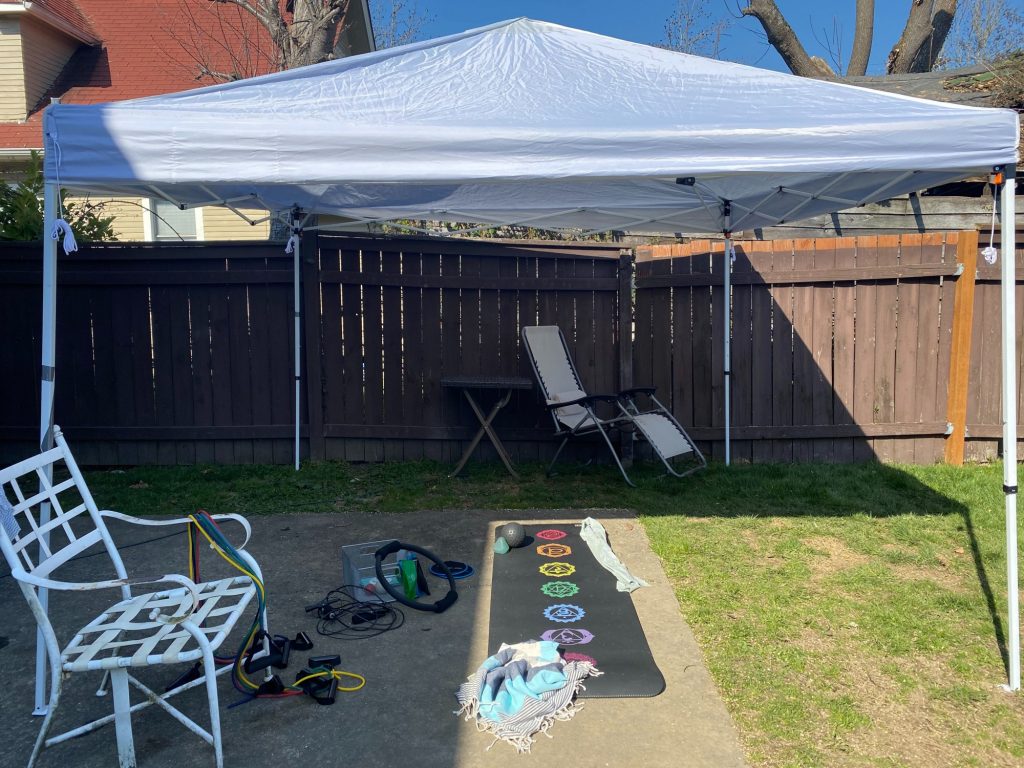 You can get a lot done with just resistance bands! These come in a lot of variations that allow you to do different exercises. One of our Strive & Uplift community members sells bands on Amazon; if you purchase NeeBooFit bands, use the code SNUNBF15 for 15% off (and to send a little kickback our way!).
The really cost-effective option with bands is getting 1-3 small circle bands. These are great for increasing knee stability while doing bodyweight squats, to work on hip strength, and to add a little something extra to pushups!
If you want to add resistance to a more robust set of movements, we recommend this band kit! It gives you a lot of options – you'll want to have a set up near a door so you can use the door anchor (or have something upright to wrap the band around that won't budge when you pull on it).
Here's a workout using the band kit and door anchor!
Fullscreen Mode
1-2 KBs – $30-90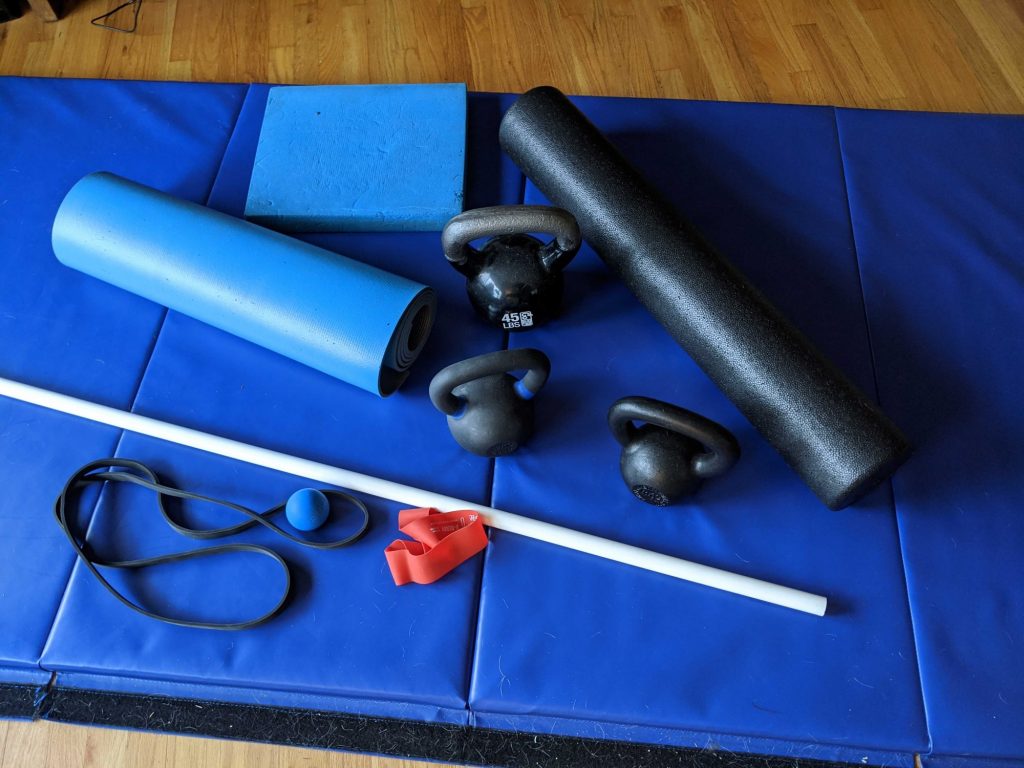 You can get a lot done with just one or two kettlebells! We love using them because they're such a versatile tool for training strength, power, endurance, and even mobility. If you're in Seattle, we can't recommend PR Lifting highly enough – they're a local outfit with great customer service and equipment quality, with free in-town delivery!
If you need a KB recommendation, we prefer powder-coated ones because you can grip them well without them sticking to your hands!
We have a lot of KB technique videos in the Lifting Technique Library in our virtual memberships – check that out for some in-depth breakdowns of difficult movements!
Here's a KB workout you can do with 1 or 2 bells!
Fullscreen Mode
Home Gym Setup – $100-$5K
If you have space and funds to create your own full home gym setup, this is a great way to guarantee available workout space and equipment that will keep you engaged with your training! Deciding which equipment to purchase and how to design the space can be a fun creative exercise – you can also email us to set up a virtual consult with Ren (who has designed many gym layouts) to figure out the details! If you're putting together a garage gym with heavier weights, you'll want to make sure the flooring you put in is sufficient to protect you and your house, and there are other considerations as well, like how far away from the wall to safely store weights. Some Google searching will get you a lot of the way, but definitely use us as a resource if you have questions!
Here's a workout you can do in your home gym!
Fullscreen Mode
Come take a tour of Coach Liz's crib!