One of my favorite things about Strive & Uplift is how much we support each other in growth and change! We do this with clients and members, with our coaching team, and for ourselves.
We're incredibly excited to announce that Becca and Kira are going to be starting their own coaching operations in May! This has been in the works for a long time for both of them, and they're using a lot of skills and confidence that they gained in being a part of our team and the S&U community as they move into this new stage of their professional lives. We're sad to see them go, but we're so jazzed to see what they will do next! Please read on for a message from Kira and Becca, and to learn how S&U's schedule will be shifting due to this change!
– Ren
From Kira and Becca
We are so grateful to be a part of a community that celebrates and supports each other! Our new adventures are in the works and we are excited to see where the future takes us!
Here's a brief summary of what we will be up to in May and beyond – if you want to learn more/be in the know, you can sign up for our mailing list!
Kira: I'll be starting my own coaching business, and will continue to offer 1:1 Coaching (virtual & in-person), Small Group Coaching (virtual, or in-person outdoors) AND Saturday 10:30am Restorative Pilates class (keep reading)! 
Becca: I will be operating out of the West Seattle location under my new business name, Opus Movement! I will be offering 1:1 Coaching (virtual & in-person), Small Group Coaching (virtual, or in-person) and virtual Mat Pilates classes! There's lots in the works for this next adventure so make sure you sign up to learn more about how to continue moving with me!
We are collaborating to offer virtual Mat Flow & Restorative Pilates classes on a drop-in basis! We will start with classes and a schedule similar to what we are currently doing at Strive AND will continue to grow our collaboration offerings!
Check out our new schedule and sign up to learn more:

We are so excited to keep moving with you all! Sign up for the mailing list and be the first to know how to join a class and/or reach to explore other options to continue working together.
S&U May Schedule
Our weekly schedule will be shifting with this change and will continue to evolve as we move into the summer! We would love for folks to go to Becca and Kira's classes, so we've considered their plans as we crafted this new schedule. We're adding a new class (Core / Stability) to our offerings, getting Liz back into group coaching with a new Saturday class, and adding another Yoga Flow class. Here's what the schedule will look like starting May 1st: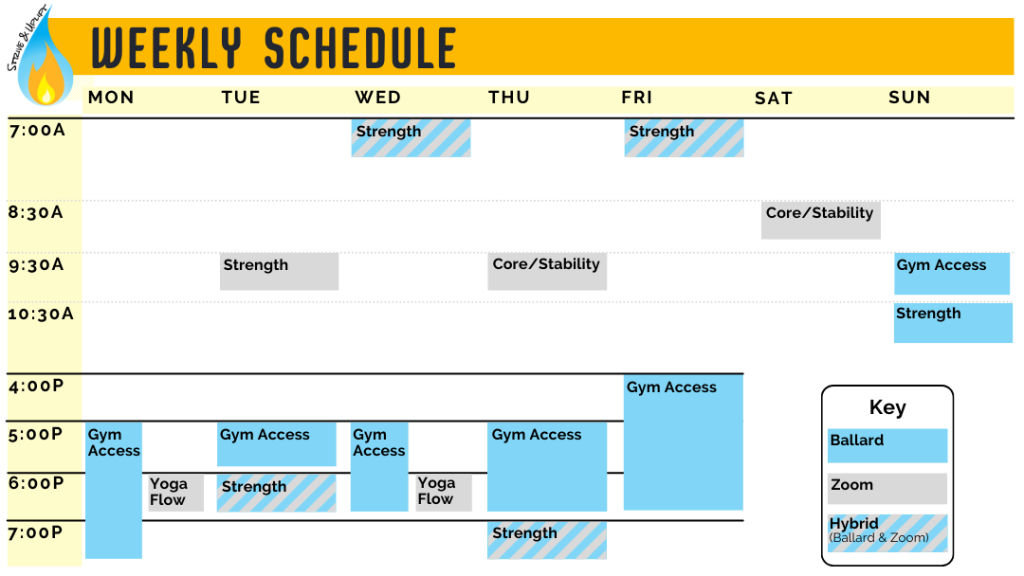 Please email us with any questions or chat with a coach!