We believe that everyone should have access to high-quality strength & conditioning, regardless of their access to resources like weight training equipment.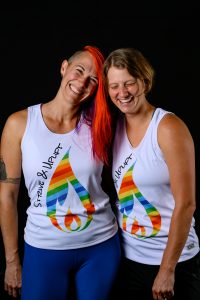 That's why we created the Gym-Free Training for Ultimate Membership. This progression of workouts will bring you through a series of movement patterns designed to increase mobility, stability, strength, and power to translate to the ultimate field — all without the use of specialized equipment. We only use household items like chairs, walls, towels, and water bottles in this program. It might help to have a set of cones for the running workouts, but even that is optional!
There are a lot of reasons why folx might not be able to access weight training equipment. Gym memberships can be prohibitively expensive, or maybe the gym is open at incompatible times with your work schedule. Maybe it's hard or nearly impossible to get to the gym between the different obligations you have between work, family, coaching, practices, school, you name it. For some folx, gyms are or feel like a physically unsafe space. (If that describes you and you're in the Seattle area, we strongly recommend you check out our location – it's seriously amazing!)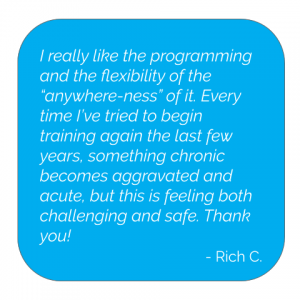 We believe that dedicated athletes can work hard outside of a gym. We believe that there are plenty of benefits to reap from bodyweight exercises. We believe that every athlete deserves education and practice with movement patterns, technique, and body awareness so they can reduce their risk of injury, increase performance, and be able to continue performing in their sport.
We still believe in the power of lifting to transform lives physically, mentally, emotionally, and socially — but we also believe in the power of focused movement work to do the same.
What's Inside
The program runs for 11 complete months, with a recovery mini-phase after the competitive season to bridge to the next year.
The membership includes a movement workout each month with individualized exercise progressions. These movement workouts follow a cyclical training schedule to focus on developing strength, stability, and power.
The membership includes 1-2 running workouts each week, depending on the time in the competitive calendar. These are designed to progress with your season to get you ready to compete!
It also includes access to our full clinic library, with topics ranging from mental health to soft tissue tools and mobility, as well as speed & agility technique videos that accompany the running work.
Membership Pricing
This product is a name-your-price membership; you choose your monthly membership fee. That way, you can pay a rate that works for you!
The suggested monthly price is $15/month to cover production and upkeep costs for this program; the minimum price is $10/month due to the massive investment we've put into the content of this membership. If you have the resources, feel free to pay more and allow others to access this content at a lower rate!
As with all our memberships, there's a free 3-day trial, so check it out and see what's in store for your year!
Individual memberships are linked to the account that purchases them. If you want to get a membership for someone else, you'll need to purchase the membership from their account. We do offer gift certificates if you want to give a set amount. Contact us if you have any questions.