These Strength & Conditioning Programming Memberships offer workout programming and other resources to support club ultimate players as whole athletes.
Our programming takes into account the changing seasonal demands of training for ultimate. We integrate a variety of methods into our training plans to improve your performance and stay injury resistant. Invest in yourself and take the guesswork out of your training!
Why Choose Strive & Uplift?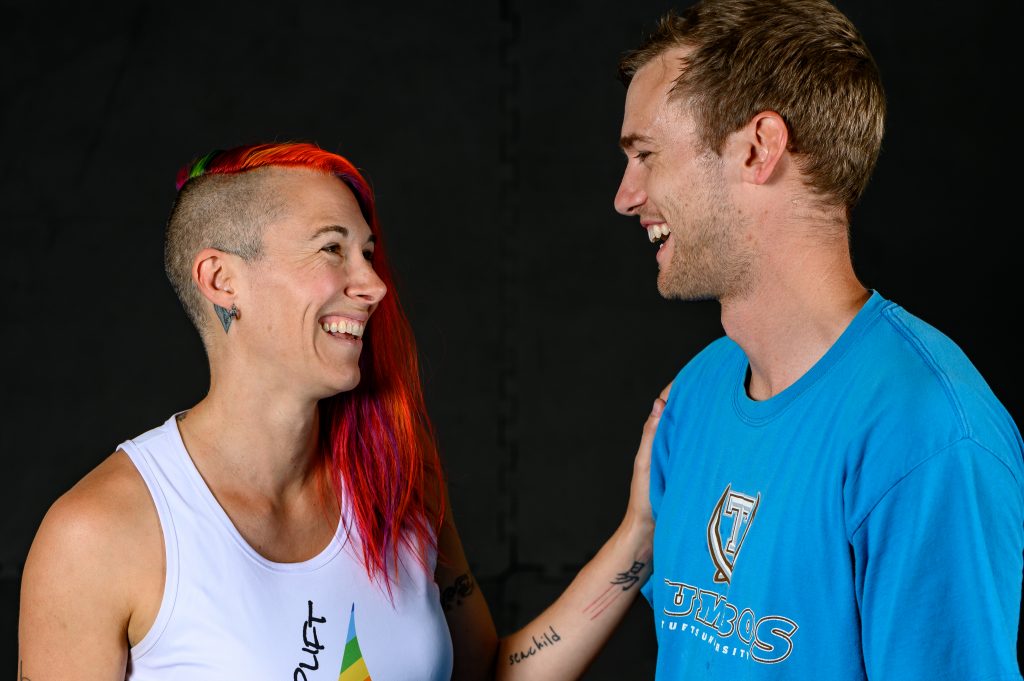 When selecting your training plan, ultimate players have many choices. We think having options is a good thing! It means our community and our sport is growing. Strength & Conditioning professionals in ultimate are all striving to make our sport better, and together we are creating a strong foundation to uplift those around us.
We are proud to provide professional strength & conditioning coaching to ultimate athletes of all levels and aspirations.
When you work with Strive & Uplift you are choosing a team that:
Is founded on the principles of striving to be your best and uplifting those around you. We keep our prices low and use flexible pricing so everyone can afford quality strength & conditioning.
Invests in the ultimate community. We are eager to continue growing this sport, we stay in touch with what matters to you, and we advocate for ultimate players and coaches. We are engaged, active members of the community.
Is a queer-owned-and-operated small business. In a male-dominated world, we provide you with an opportunity to "vote with your wallet" and support women and non-binary people in ultimate in a tangible way.
Truly understands ultimate players. We have extensive experience in the field of sport-specific training. Our coaches play, coach and live at every level of the sport from local leagues to the world stage.
Provides responsive training plans. We train a wide variety of athletes both in-person & virtually and stay on the cutting edge of what players need.
Integrates diverse perspectives on training. We support the whole athlete with our team of specialized coaches & health professionals and use of research-driven resources.
Empowers players through education. We focus on quality instruction of not only what to do, but also why so you get the most out of training content.
Our Training Philosophy
We focus on fundamental and functional movement patterns.
We build strength and control starting with the core, apply it to major lifting patterns, and then to movements on the field. Throughout all of this, we take care of soft tissue and mobility work to maintain functional movement.
We use cyclical training variations to provide appropriate training stress throughout the year that will help you perform your best during the post-season!
We acknowledge that every athlete has their own goals, working edges, training history, and personal schedule that impact how they interact with their training plan.
We provide tools and strategies to care for the whole athlete from nutrition and mental health to monitoring training (and life!) stress.
We respond to athlete feedback and stay current on the latest research through study and collaboration to keep our programming current and responsive to your needs.

What's Inside?
Check out this video to get a look at our memberships and get to know how our team will support you. Every membership has a free 3-day trial and no initiation fees, so if you want to see more, sign up with no obligation!
Our Athletes
We believe that your training plan should fit your needs as an individual. This means our workouts are built with flexibility to adapt to your schedule and personal training needs!
Read on about the different kinds of athletes who use our Virtual Memberships to train for ultimate. Wondering how to structure your training calendar? Talk with one of our coaches!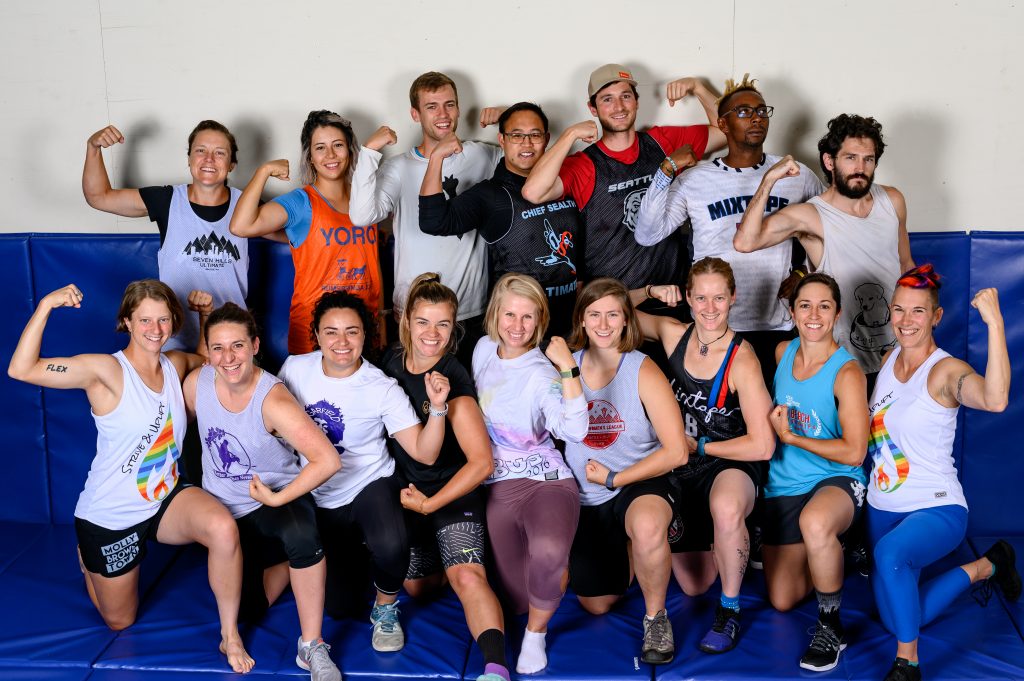 The Rec Player
This athlete participates in their local city leagues, playing games on multiple weeknights throughout the year. They don't really have an "in-season" or "off-season", as they compete year-round!
They use our workout of the week for general strength & conditioning once a week at their gym. These workouts continually work on their strength & stability, mobility, and overall fitness to keep them on the field year-round. Occasionally, they'll use our club running workouts to work on their ultimate-specific running technique. They also use exercises from our soft tissue and mobility clinics to maintain their range of motion on days they don't have other commitments!

The New Lifter
This athlete participates in the club season and series and recently started lifting to train for ultimate. Because they're relatively new to lifting, they don't need to lift several times a week to get the benefit from their workouts.
They use the cyclical lifting and running workouts to train for ultimate.
New Lifter Off-Season Sample Schedule
In the off-season, they make sure to lift twice a week and get running technique training in. They like doing the conditioning running workout but will skip it if they have a double-header in league, a long hike with friends, or a fun tournament scheduled for the weekend.
They try to do the daily homework as often as possible, especially on days they don't have other training scheduled.

New Lifter In-Season Sample Schedule
During the season, their team practices twice a week. They make sure to lift once a week and do the weekly sprint workout. They only do the longer, work capacity-focused running workout when they don't have a tournament or a hike with friends planned for the weekend.
They make use of the daily core and mobility homework on any day they're not already training and to help warm up for practice and games. In particular, they focus on improving their ankle mobility since they sprained an ankle last fall.

The Multi-Sport Athlete
This athlete balances ultimate with other sport endeavors, for example climbing a few times a week. In the off-season, they focus on getting in two lifts a week and work on running technique, but rely on their other activities for a solid conditioning base. In the pre-season, they slowly shift their focus toward more running volume to get ready for tryouts. During the season, they focus on a balance of lifting and running workouts and attend weekly team practices in addition to keeping up their climbing skills.
Because of the demands of ultimate and climbing, they make sure to complete their daily homework to build core strength and maintain mobility so they can perform well in both sports!
Multi-Sport Off-Season Sample Schedule

Multi-Sport In-Season Sample Schedule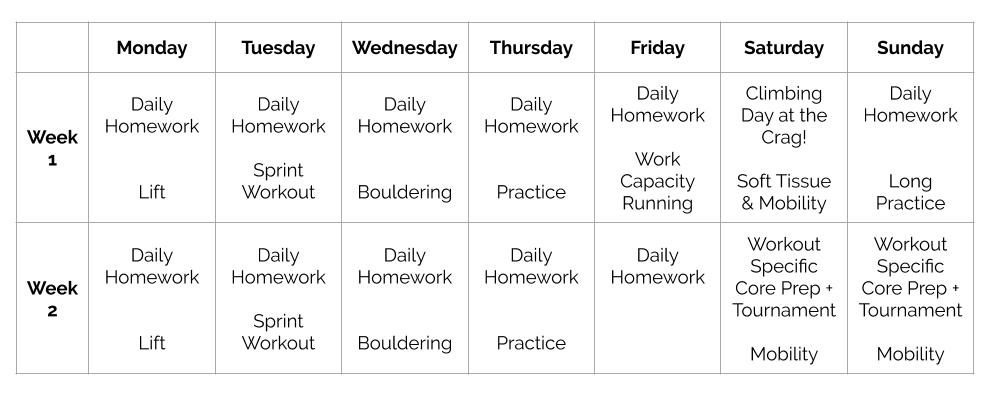 The More Experienced Lifter
This athlete participates in the club season and series and has been training for ultimate through lifting and running workouts off and on for a couple of years.
Experienced Lifter Off-Season Sample Schedule
In the off-season, they aim to lift three times a week to maximize strength improvements. Depending on what their plans are for the weekend, they shift around their running schedule to make sure they're always working on the gradual progression of running technique skills and building a solid conditioning base leading into the season. They often find ways to work on running technique and agility in combination with playing goalty by taking the first portion of the running workouts and substituting playing time for some or all of the work capacity sets at the end.

Experienced Lifter In-Season Sample Schedule
During the season, their team has a long practice once a week, one smaller pod workout, and they go to goalty pickup once a week.
Because they've been lifting for a while, they make sure to lift twice a week. They balance their overall workload by combining the technique portions of their running workouts with other playing opportunities, and decide how much conditioning and work capacity running to do based on what they have planned for the week.
They do the daily core and mobility homework every day of the week when they wake up to start their day off. The 8 minutes of core makes them feel prepared for the day, while the soft tissue and mobility work helps them recover better from the previous day of training. In particular, they focus on maintaining hip mobility, since their hips tend to get bound up over the course of the season.
They love using the workout-specific core prep designed for warming up to play tournaments, and have convinced some teammates to do the core warmup with them!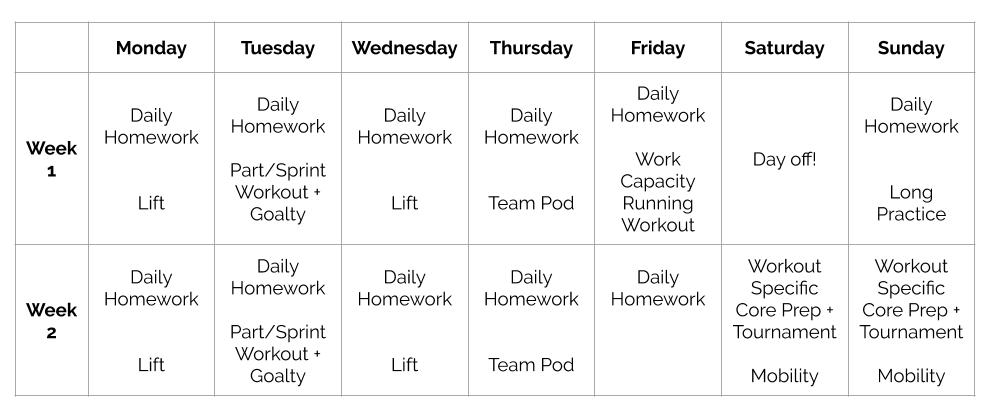 The Very Experienced Lifter
This athlete has been training for ultimate through lifting and running workouts on a consistent basis for several years and was starting to plateau in their training improvements until they started doing Advanced Programming with us.
Advanced Lifter Off-Season Sample Schedule
During the off-season, they're very focused on maximizing the gains they can get from lifting, and focus on getting all three lifts in each week. They move around the days they lift depending on their weekend schedule, always leaving a recovery day after their high volume lift.
They split up the daily homework, doing the core work in the morning and soft tissue and mobility at night. This makes them feel ready to charge forward into the day, as well as calms them down before bed.

Advanced Lifter In-Season Sample Schedule
During the season, they lift 2-3 times a week and do 1-2 running workouts outside of practices. Their team practices only on the weekends, meeting for several hours at a time and do "mini-camps" over a whole weekend about once a month. They manage their overall workload based on their practice schedule.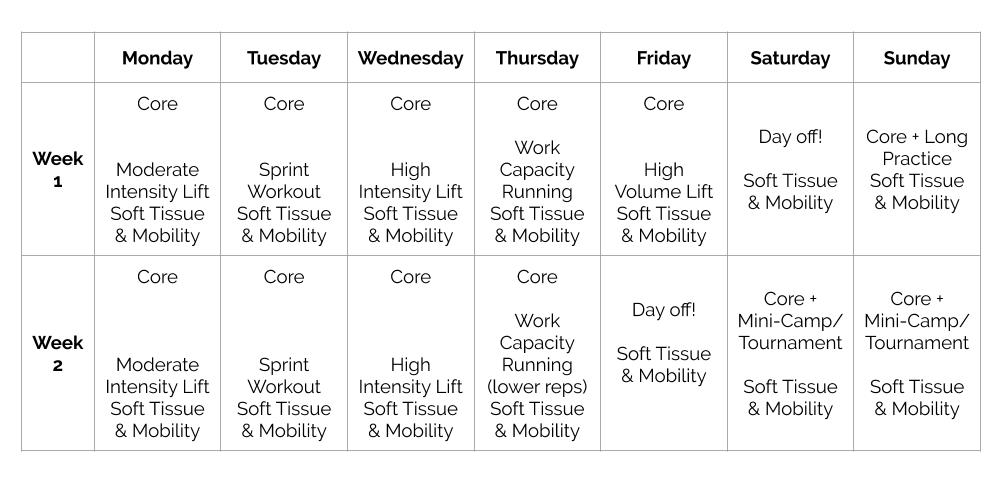 Membership Options
Individual Membership
Flexible Pricing ($25/mo suggested, $20/mo minimum)
This membership is designed for club ultimate players. In order to provide the most flexibility to this incredibly diverse set of people, we're using a name-your-price model for individual and team memberships. The membership includes a wide array of content:
Cyclical lifting programming designed to get you to peak performance for the club series
Alternate gym-free strength, stability, and mobility programming for those who don't have access to weight training equipment
Progressive running programming that builds your running technique alongside conditioning and speed
Two options for the foundational phase to get started with our programming – a 4-week phase and an extended 8-week phase for people who have been away from sport for a while
Communicate with coaches and other athletes using the Strive & Uplift Community Slack
A library of clinics and technique instruction videos, including:

Deep dives into form and safety for over 50 specific lifts
Video instruction for all major lifts and running technique elements
Clinics on speed and agility concepts and drills to help you understand how to maximize on-field performance and reduce the risk of injury
Mat-Pilates style core training instruction from the ultimate players' lens
Nutrition clinics with specific recommendations for vegetarians and folx with menstrual cycles
Mental health skills training for personal reflection and interpersonal communication
Soft tissue and mobility clinics, including the use of soft tissue tools, K-tape, and other equipment-free movement practices to keep your joints moving well!

Reduced rates on Virtual Consults with our staff of Strength & Conditioning professionals
Advanced Programming Add-On
$5/mo & below
Designed for players who have been lifting for a few years and need more complex programming to get to the next level, this add-on is available by application only.
Team Membership
~20% Off Individual Rates
Invest in your strength & conditioning as a whole squad (minimum 15 players) and get access at a discounted group rate! When you sign up for team membership, your squad will get a private channel in our Strive & Uplift Community Slack to communicate about workouts and get feedback from our coaches.
We also offer virtual workout and workshop sessions for teams either in conjunction with team membership or on their own! Email us for more information. Discounts apply if you bundle services and sessions!
Your team can get club ultimate memberships at flexible rates ($18/mo per person suggested, $15/mo per person minimum). Because this membership includes progressive, cyclical content for those with and without access to gym equipment, it's perfect for teams who need flexibility in programming!